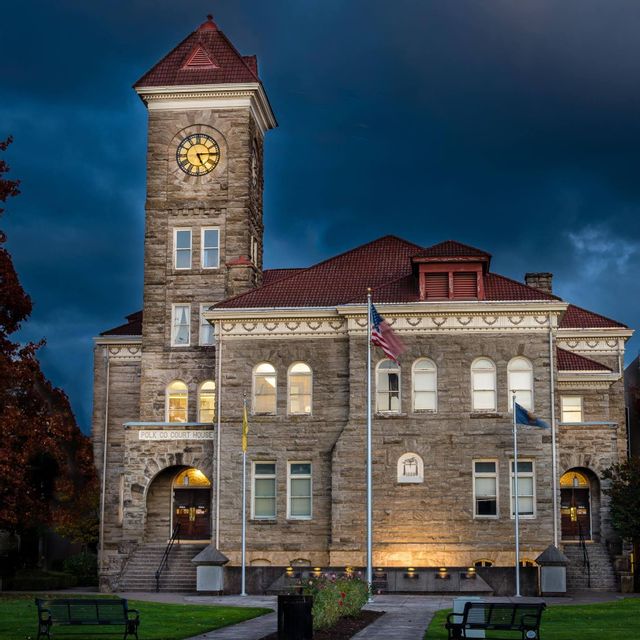 Dallas Downtown Association
Revitalizing the Heart of Our Community
The Dallas Downtown Association has been working for several years to foster a vibrant downtown as the core of our city.

With beautiful buildings, safe and clean streets, and devoted business owners, historic Dallas is realizing its potential as a thriving downtown district. 
For several years, the Association has partnered with property owners, the City, and the Urban Renewal District and others to revitalize many elements of our downtown to include artful murals, the successful restoration of the colorful and historic "Blue Garden" sign, the award-winning Corby's facade reconstruction and other extensive building work. In addition, over $2,000,000 in streetscape work has been accomplished which has fundamentally revitalized the positive ambiance of downtown.
We hope that you will join in our mission to restore and invigorate downtown Dallas!
DDA COMMITTEES
The real work of the DDA is accomplished by our four primary committees which operate under the Main Street Model. Each consists of volunteers who have a passion for one or more of the four subject areas of these committees.


Organization Committee:
Operating with the approval of the DDA Board, plans and creates the documentation and methods of execution for underlaying organizational structure of the association. The following lists some, but not all, of the committee's functions.
Drafts and staffs the DDA's Bylaws, Policies and Procedures Manual and Employee Handbook
Creates and oversees the DDA's members recruitment and retention programs
Drafts and staffs the DDA's periodic Strategic Plan

Monitors and ensures the timely preparation and approval of the DDA's Annual Budget
Monitors and suggests actions to the Board relating to administrative and management practices such as bookkeeping, recordkeeping, member engagement and marketing materials and execution (e.g., website design and updates)
Monitors and suggests actions to the Board relating to the DDA's image and effectiveness of its mission and activities in the community
Design Committee:
Helps shape the physical image of Main Street as a place attractive to shoppers, investors, business owners, and residents. 

Provides good design education & advice
Helps plan Urban Renewal District development
Links business owners to available incentives & targeting key projects
Acts as the steward of public spaces within the historic downtown district
Facilitates the rehabilitation of existing private buildings & of new buildings

Enhances the walkability and ambiance of the historic downtown
Acts as the primary point of contact for the DDA for downtown beautification, building restoration and improvements, streetscape, parking and signage plus other physical enhancements or improvements as they develop
Creates and manages the Dallas Community Arts Master Plan
Economic Vitality Committee:
To understand the market, identify new market opportunities for the district, link business owners with available business assistance, find a new market.
Knowledge of the current economic condition
Identifying opportunities for market and growth
Strengthening existing and attracting new ones
Find viable uses for traditional main street buildings
Develop financial incentives & capital for business development and possible rehabilitation.
Monitoring the economic performance of the historic downtown district
Promotions Committee:
Promotes the downtown by organizing and supporting events an activities that attract both community members and visitors to enjoy the culture and ambiance of the historic district

Pans and executes events and cultural occasions which attract individuals to the downtown area
Understanding changing markets  (shoppers and competition)
Building on downtown assets
Creating image campaigns, retail promotions, and special events
Portrays a positive image of our historic downtown through branding, printed materials, and a robust internet presence both on social media and the DDA website